How to Compare Job Offers
At some point in your career, there's a very good chance that you will find yourself contemplating a new job. At Commas, we're well-versed on this topic, especially for our clients in their 30s, 40s, and 50s who tend to consider and evaluate job offers throughout their careers. It's always a big decision, so we have some guidance for those who may find themselves in this situation, whether now or down the road.
Oftentimes when clients seek our guidance on this topic, the main question is, "Will accepting a new job offer get in the way of my financial goals?" There are two ways to approach this:
Choose a new opportunity that will allow your established goals to be achieved OR
Revisit those goals to accommodate the new job. For example, maybe you can't save as much as you wanted to for your child's college education, but the new job will allow greater flexibility to spend time with your family.
We're here to help consider these various trade-offs to ensure you make the right decision.
So how do you get started when weighing job offers? We've put together a worksheet you can download as a starting point. It probably goes without saying that many factors go into a quality decision about whether to change jobs. We hope this handout will serve as a starting point to capture all your thoughts into a single sheet to better understand the choice at hand.
The form is organized by benefits, starting with monetary (think salary and other forms of compensation) and other financial benefits (think medical benefits). Additionally, we've carved out room for some of the intangible benefits and excitement factors (one of our favorite sections!). Here's how you may want to approach completing this worksheet:
Start by completing as much as you can, knowing that a void in certain areas might prompt you to connect with your potential employer to learn more.

Star the factors that are most important; salary might for critical for some, professional development might be another.

Talk through the list with trusted contacts, like your family, friends and, of course, your financial advisor. Oftentimes, an outside opinion can serve as a wonderful sounding board.
As you work through the process, keep in mind that these decisions are not always black and white. But getting it all on paper, focusing on the things that are most important, and talking to trusted "advisors" will help sift through the opportunity.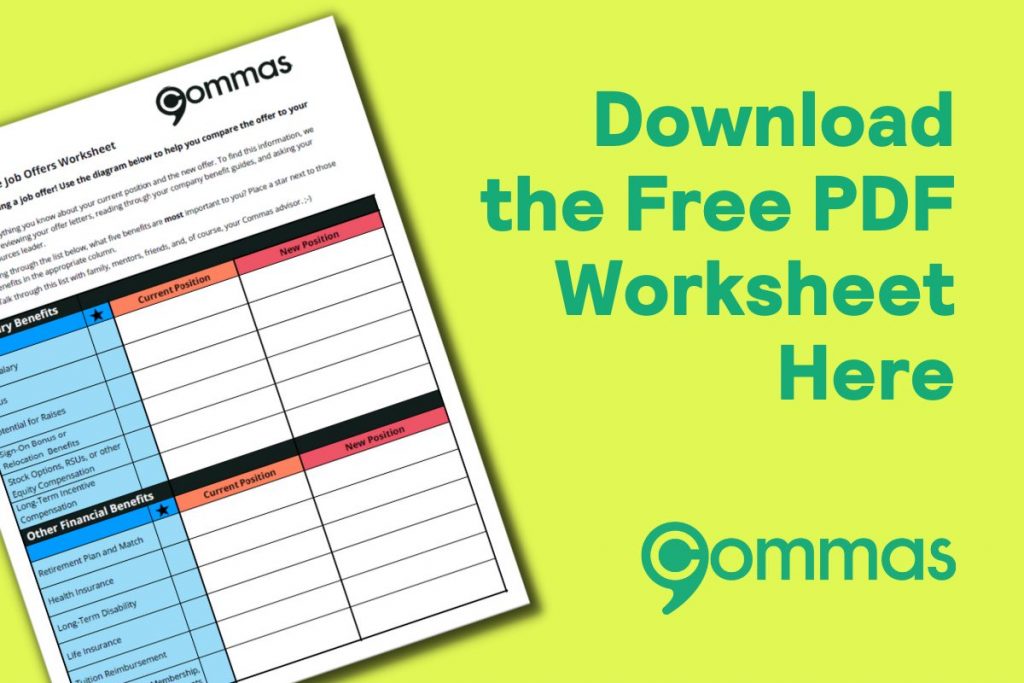 At Commas, we believe in the power of financial goals by always considering the big picture. By accepting a new position, will you be able to achieve the "commas" in your life? If you can answer that question, you are well on your way. Good luck!
Commas is a wholly-owned subsidiary of Truepoint Inc., a fee-only Registered Investment Adviser (RIA). Registration as an adviser does not connote a specific level of skill or training. More detail, including forms ADV Part 2A and Form CRS filed with the SEC, can be found at www.usecommas.com. Neither the information, nor any opinion expressed, is to be construed as personalized investment, tax or legal advice.